"Stand With Ukraine" is an original piece of art issued by @cryptoswatches founder Mike Macfadden (@mjmacfadden) as part of the Ukraine Aid Pack—Proceeds from which go to humanitarian efforts in Ukraine.
"Stand With Ukraine" Original
Learn more about CryptoSwatch founder @mjmacfadden and his original piece titled "Stand With Ukraine."
ABOUT THIS DROP:

As the world watches the invasion of Ukraine on television and social media in real time, I think we all feel a sense of horror and disbelief. I find myself asking, "How can this be happening in 2022?" This type of conflict, I thought, was a relic of the 20th century. It turns out, that's not the case.
Feeling the need to do something, I've joined with a collective of artists and NFT projects on the WAX blockchain to turn creativity into action. All proceeds from sales of the Ukraine Aid Drop will go to support humanitarian efforts in Ukraine. "Stand With Ukraine" is my contribution to this project.
My piece features the Ukrainian flag overlaid a brick wall nested inside of a crypto swatch. I tried to encapsulate the spirit of the Ukrainian people and their steadfast determination to defend their land, sovereignty, and right to life. They have, like a brick wall, stood firm in the face of tyranny.
While this one piece of art is unlikely to shift the needle significantly, my hope is that it, and countless other acts like it, will together help to shift the balance of justice towards what is right.
For $5 (approximately 17 $WAXP), you will receive a pack that contains 5 NFTs from this collective. If the odds are in your favor, you may receive one of my 250 contributions. If not, you will receive 5 different NFTs from amazing artists all over the world and those proceeds will go to support a worthy cause.
CONTRIBUTING ARTISTS: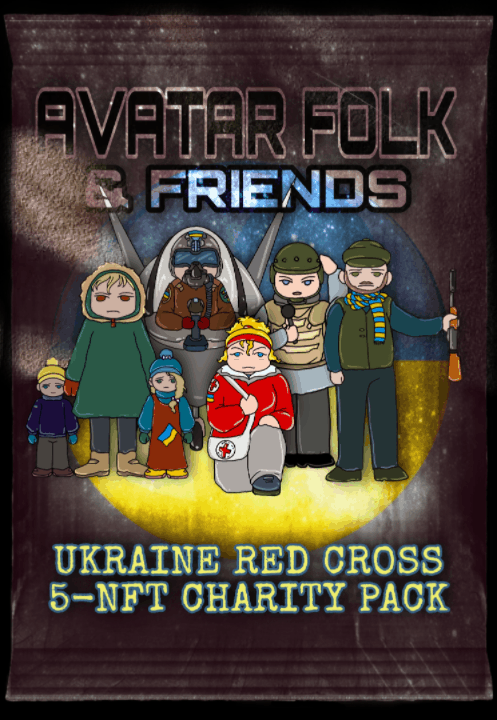 $5 (approximately 17 $WAXP)
"STAND WITH UKRAINE"
1/1 AUCTION
name: Stand With Ukraine
img: QmPQczbAqURzQNL54gPDHm5pLmpFMVRA12kG27SWNg9A1B
back_img: Qme758SB18YJ8tQ7jsFN65ZAaub2YW4mKj2KBAX1Hgwde1
description: Learn more about this project at: cryptoswatches.com/stand-with-ukraine and then follow @cryptoswatches on Twitter.
tags: #unswatched
1/1 Auction:

Most of the art featured in these packs are also being auctioned off as high resolution one of one NFTs. For the first time, the art featured in the swatch is available in its "unswatched" form. You can bid on the piece until Wednesday, March 16th, 2022.
Like the pack sales, all proceeds from this auction will go to humanitarian efforts in Ukraine.